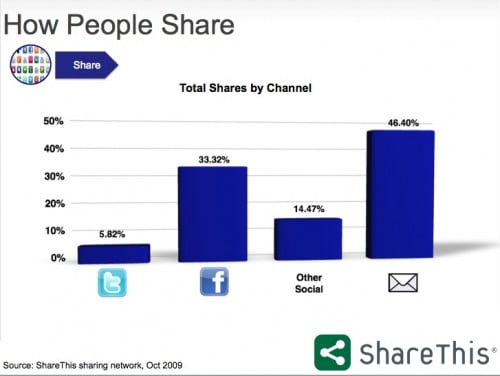 One of my clients called last week to say,  "I love your newsletter but I want your blog delivered to my email too."
No need. Every blog post for the preceding month is referenced in my monthly newsletter (along with some original content). Why do I do this?  My readers have lives of their own and I need to make it easy for them to access my information (duh).
The good people at ShareThis have a little application that can be inserted into blogs and websites. It enables readers to share what they're reading via email and social media platforms in a couple of clicks/keystrokes. This gives ShareThis a unique vantage point from which to watch sharing behavior.
And what do they know? 46% of shared information reaches its new destination via email, in spite of social networking sites in the aggregate edging email out.
Tweets and Retweets
I owe a great deal of my traffic flow to Twitter, where I actively participate in financial, economic and marketing conversations and share what I've written as it's appropriate.  At least a third of my blog traffic is Twitter generated, so I was surprised to read ShareThis stats on this beloved service:
We found that Twitter is the least engaging share platform with users visiting an average of 1.66 pages when they click through to a site, while users coming in off e-mail were the most engaged, visiting 2.95 pages (emphasis mine),  and Facebook trailing closely behind 2.76 page views. Of course this varies by vertical and site, but if you think about your own habits, it makes sense. Getting an emailed link from a friend may cause you to pay more attention than the more random discovery that you get on Twitter as you consume quick opinions. We think there is tremendous potential for Twitter to increase its engagement when and if better filters are applied – the type of filters that Facebook has built in from the start.
My best recommendation, even if you devote time to build your presence on Twitter, Facebook, LinkedIn and other sites, re-distribute your messages with a regular e-newsletter. A belt & suspenders approach to being heard.