Professionally speaking, I grew up in the financial services sector.  Literally grew up there (in grade school I did light filing for my father, an insurance agent).  After college I worked for insurance companies, a bank, and LendingTree, a financial services firm.
So believe me when I say I understand the need for compliance when talking about other people's money and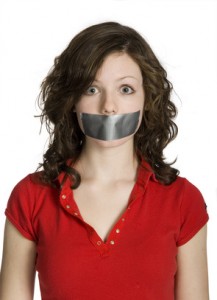 investments.  Even more so since the 2008 meltdown.
An acquaintance works for a Mass Mutual general agent.  Like most financial services companies, Mass Mutual rules external communications with an iron fist.  As a result, her "original" communications options are limited to transaction requests like "Please send me the street address and phone number of the surgeon who removed your gall bladder  in 2002. "
How's a financial representative to compete with so many businesspeople in less-regulated professions who send e-newsletters and blog about their work? She does her best to stay in touch with prospects and clients by sending links to holiday cards.  Pretty lame, but keeps her name out there.
Last week she sent this message:  "Every few months, I try to keep my clients and friends up-to-date with current financial issues or critical concerns. Here is the latest. This is not a download or an attachment. It is a safeguarded link."
Ahhh, I thought, now she's putting some meat on the communications bone.
Clicking through the link I went to what was essentially a six-slide PowerPoint presentation about how awful taxes are and the stunning conclusion that "The IRS collects more tax than many people want to pay."
When it got to the teaser line that said "Review strategies that can help you reduce, defer or possibly eliminate current taxation," I thought I was in for some meaningful information on the next slide.
I was wrong.  The next slide was simply a text box where I was supposed to talk about my taxation vexation so that an insurance agent could follow up within 48 hours.
The whole thing was sooooooo far from meaningful that I think it did her more harm than good to send that one.
Financial Writing Prompts:

I'm interested in the variety of compliance hurdles financial services professionals face.   Wondering whether communications policies are more similar than different from firm to firm.  Here, you can write under another name if need be, so cut loose!
What are you doing to stay relevant in this social media business environment if all your conversations are recorded and written communications censored?
What are competitors with other firms doing that you think go over the edge?
Are any changes in sight?