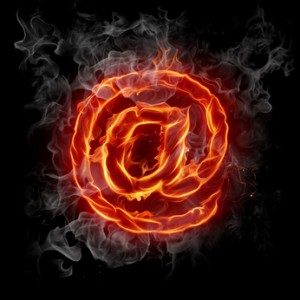 I've been waiting for a good case study to illustrate what I've been saying about spam filtering over the last several months.
Last week a global provider of bulk email services had to deal with one of its rogue customers who'd gained a reputation as a spammer. While it did, a large-but-untold number of innocent and spam-compliant emailers couldn't get their messages into customers' inboxes.
Aha! The rubber hits the highway. Here's how it went down:
Spamhaus Project, the international cyber crime fighting organization, placed the rogue emailer's internet (IP) address on its blacklist of spammers. The rogue's IP address belonged to the rogue's email provider, which meant the millions of innocent commercial emailers also using that provider were painted with the same "spammer" brush. The Internet Service Providers (ISPs) who subscribe to Spamhaus' blacklist wouldn't deliver anyone's email from that service until the matter was resolved.
Damage control overdrive with Hotmail, Yahoo! and others
The commercial email service provider had to go into damage control overdrive, suspending the rogue's account, communicating with innocent emailer senders about the delay to their campaigns, and proving to Spamhaus that they'd taken the right precautionary and reactionary measures required. Until Spamhaus removed the address from its blacklist, ISPs like Hotmail, Yahoo! and others wouldn't deliver any of the provider's clients' email.
Ouch!
This is tough to convey in words, and I acknowledge using some jargon here, so I suggest you visit Spamhaus for flowcharts that illustrate how filtering works.
Follow commercial email rules
The upshot for commercial emailers: if your email service provider advises you to use a double-opt-in subscription process or to certify that you haven't purchased an email list, or subscribed people without their permission, comply quickly and don't complain about the extra steps. These procedures are necessary to convince Spamhaus and the ISPs that you're a compliant emailer, even if someone else using your service isn't.
This also points out the reason to use a bulk email service instead of sending email campaigns from your own email account. That way, if you are accused of spamming, you'll have a knowledgeable and experienced company go to bat for you with the international cyber services. If I may be so bold to ask, please consider using my email service.
The Spamhaus Project is a great study for international cooperation. Be sure to hit the tags to the right for more of what I've written on SPAM and e-newsletters.