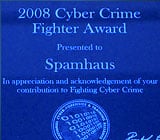 In September I had the pleasure of being a Twitter panelist on how to avoid the spam filters when emailing.  This is the third time I've spoken formally on the subject (if you consider tweeting "formal").  By this third presentation, it struck me that spam is like porn, everyone thinks they know it when they see it, but few can define it in their own words.*
Looking for the most succinct explanation, I turned to the  Spamhaus Project, an international non-profit organization whose mission is to track the Internet's spam operations, to provide dependable realtime anti-spam protection for internet networks, to work with law enforcement agencies to identify and pursue spammers worldwide, and to lobby governments for effective anti-spam legislation.
The word "spam" as applied to email means "unsolicited bulk email"
The two most important words there are UNSOLICITED and BULK.
Unsolicited means that the Recipient has not granted verifiable permission for the message to be sent.
Bulk means that the message is sent as part of a larger collection of messages, all having substantively identical content.
A message is Spam only if it is both Unsolicited and Bulk.
Unsolicited email is normal email, for example first contact inquiries, job inquiries and sales inquiries.
Bulk email is normal email, for example, subscriber newsletters, customer communications, discussion lists.
Point of clarification: The CAN-SPAM Act goes beyond the technical definition of spam; it applies to commercial email sent to recipients in the US and originated in the States. Download this [Download not found].
*Wow your friends with your command of factoids
I'm not the first to use the phrase " everyone thinks they know it when they see it."  The origin is in a US Supreme Court case that helped define the legal standards for determining obscenity. Here's a bit about the case.
In 1964, movie theater manager Nico Jacobellis was convicted of exhibiting an obscene movie, Louis Malle's Les Amants, "The Lovers." The ads were hyperbolic.
"When all conventions explode . . . in the most daring love story ever filmed!"
"As close to authentic amour as is possible on the screen."
"The frankest love scenes yet seen on film." "Contains one of the longest and most sensuous love scenes to be seen in this country."
In the words of the Supreme Court decision: "'The Lovers' involves a woman bored with her life and marriage who abandons her husband and family for a young archaeologist with whom she has suddenly fallen in love. There is an explicit love scene in the last reel of the film, and the State's objections are based almost entirely upon that scene. The film was favorably reviewed in a number of national publications, although disparaged in others, and was rated by at least two critics of national stature among the best films of the year in which it was produced."
Although the film was shown in some 100 U.S. cities, including Columbus and Toledo, Ohio, Jacobellis was prosecuted for showing it in Cleveland Heights, a middle-class suburb of Cleveland. In a 6-3 decision, the Supreme Court decided that Jacobellis had been wrongly convicted.
The most famous opinion in the case came from Justice Potter Stewart, who said that the only unprotected material in his opinion was "hard-core pornography." Stewart expressed his concern that such material was impossible to define. "But I know it when I see it."