Last week, under the presumption of sending me St. Patrick's Day greetings, I got this from a life insurance agent who likes to pose as a financial advisor:
St. Patrick's Day is quickly approaching. Even if you're not Irish, you still get an Irish Blessing to hold on to for the year.
May your pockets be heavy and your heart be light,
May good luck pursue you each morning and night.
This is also the week that I send one of my periodic checklists. Please take a second of time to check-off these questions. It could help reduce your taxes and provide new financial tips. That's worth a second! Here is the checklist.
This is not a download or an attachment. It is a safeguarded link.
And here's what I got in that safeguarded link: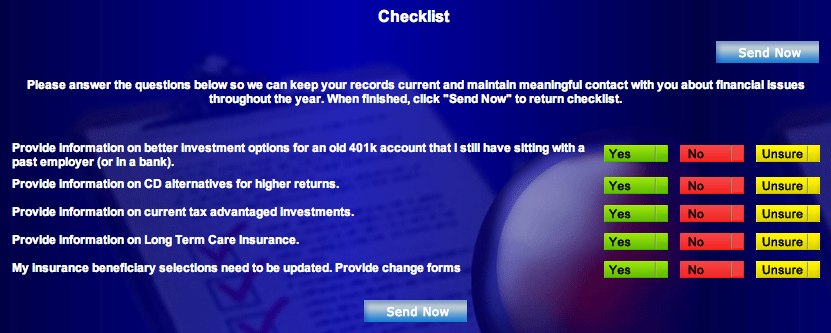 Let's break this down
First,using the elementary school holiday calendar as an excuse to send solicitations is disingenuous. I can see right through your ploy.
Second, when you say you're providing me with a checklist that will help me reduce taxes and provide financial tips that's what I expect. You lied.
Third, the visually wretched "checklist" leads with the setup that you are somehow helping ME  keep my "records current" when in reality it's a lead generation form for YOU.
This kind of crappy communications gives the insurance sector a black eye.  You earned the Golden Retriever Crappy Communications Award for March, 2010.