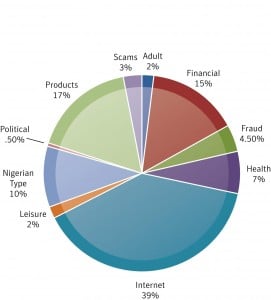 Mom's advice still holds: you're known by the company you keep. Since 15% of all reported spam  last month was finance-oriented, Internet Service Providers (ISPs) are scrubbing emails with references or offers related to money, the stock market or other financial "opportunities" including investments, credit reports, real estate and loans.
What's this mean for legitimate financial services emailers? You've got to fight harder to keep your own reputation intact. The good folks at Listrak give great advice including pruning your subscriber list and asking subscribers to re-opt-in from time to time.
Here's the exciting news for legitimate emailers:  ISPs have added a new metric to the reputation measurement – level of subscriber interaction and engagement. ISPs can tell who opens and clicks on a message and who ignores or deletes it. More importantly, they monitor how many subscribers click "this is not spam" if the message is delivered to the junk mail folder instead of the inbox. Monitoring subscriber engagement lets the ISP know which senders are delivering relevant content that subscribers want and which ones, like spammers, are continuing to blast out message after message even if no previous action has been taken (emphasis added).
Takeaways:
Keep email content brief. Link elsewhere for the full story
Engage subscribers with surveys, downloads and linked graphics
All email templates have a built-in forward feature, but it can only help to suggest specific possible recipients, for example:

A coworker whose spouse was recently laid off
A neighbor whose house has been languishing on the market
A relative whose adult children have moved back in
If your content isn't engaging, it's more likely to be trapped in a spam filter. Call me to develop a content strategy that keeps receivers engaged and sending you referrals.