Exhortations to "publish, publish, publish" forget the most important advice: publish something worthwhile. To communicate in a meaningful way build an editorial calendar and stock your content pantry.

Building blocks for an editorial calendar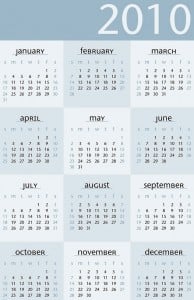 Seasonality. The US tax season drives business to accountants, but also  drives a spike in calls to financial advisors and some attorneys. Surely there is seasonality in your business, too. What seasonal issues do your clients face? Can you come up with one for each month of the year?
Key Messages. One of my clients is a JD-CPA who specializes in estate and succession planning. His newsletter's target audience are accountants and financial planners. He writes about triggering events in their clients' lives that might cause them to consult with an estate planning professional, making liberal use of case studies. What are the top ten things your clients need to know? What are the top five mistakes your clients made before working with you? What are the three most expensive errors your clients make when trying to go it alone?
Political calendar. Here in the States, 2010 is an election year, so candidates will be talking about change. Seize the momentum and prepare a series of articles or posts on topics likely to get news coverage. If you play your cards right (or hire a public relations pro) you might have the good fortune of being quoted by mainstream media.
The 24×7 news cycle. You can't plan ahead for all breaking news, but you can capitalize on it. Once you know your key messages you'll be surprised how often something in the news prompts you for a blog post or newsletter article.
Build a content pantry of key messages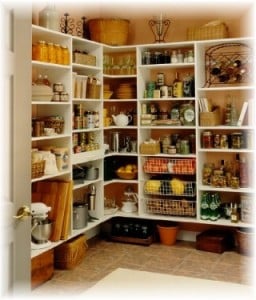 Back in ye olde days (before 1980 or so!) people stocked "staples" in their kitchens/pantries including flour, sugar, salt, baking powder, herbs, spices…you get the idea. This made it easy to whip up a myriad of dishes with the addition of items that can't sit on the shelf as long.
Think of your key messages as a "content pantry." One of my clients, a mortgage planner, has this in his content pantry:
A written mortgage planning philosophy
Case studies of how people in various phases of life can apply his philosophy
A recommended process for people to find and finance the right house
Case studies of refinancing strategies gone well and gone badly
Some mortgage planning tools like a Household Blended Debt Rate calculator
A list of mistakes people often make when house/mortgage shopping
Add a seasonal calendar
The mortgage planner's calendar includes:
First Quarter:

Good financial/budgeting hygiene
Planning ahead to making deposits on colleges (refi may be in order)
Tax season

Second Quarter:

People start thinking about selling their home
Get a mortgage plan before falling in love with a house
Local stats on home values, appreciation,  school boundary changes & other things of interest to shoppers

Third Quarter:

Basic financial advice (evergreen topics)
Reminders to come in for an annual mortgage review
Looking ahead at funding college

Fourth Quarter:

September is Life Insurance Awareness month; he talks about the role of insurance in an overall mortgage strategy
Year-end/first-of-year planning topics (might include refi)
Ready to publish
This client is basically ready to go. When something hits the news, he already has key messages from which to base commentary. How'd he get to this point? I helped.
You can do this, too. What are you waiting for?