I had the opportunity to debrief the Business Sorority of NC on the vital role that social media played in my 2010 road trip. I used Twitter, Facebook Pages, Vimeo, Flickr, and my travel blog to:
raise money for my expenses and  the National Breast Cancer Foundation
get news stories in four states during my trip and hours of local coverage
find co-riders throughout my trip
earn sponsorships from Caribou Coffee, AAA and BMW
I asked how many of the Business Sorority members used the same tools for their businesses and was surprised how many used Facebook and how few used a blog; here's the final tally:
Twitter used by 10%
Facebook Pages used by 90%
Video by 5%
Photos  by 0%
Blog by 30%
The most important social media tool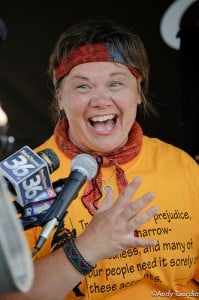 In the Q&A one woman asked which I felt was the MOST useful/important of these applications.  I answered using the Swiss Army Knife example — in social media you'll use a couple of the tools more than the others, but when you really need that tooth pick/Tweet, you really need it.
For example, when I reached Bend, Oregon (my westernmost destination) I wanted my hometown NBC affiliate to take the feed from the Oregon station and run it in the Charlotte market so I tweeted asking if anyone had a connection to WCNC. Sure enough! While WCNC didn't get the feed from Oregon, they did three times more than that: they covered my arrival home, featured a live interview with me on their morning show and used footage from my arrival and interviews in a feature story about women motorcyclists.
YEAH, that's the power of  the right tool at the time!
Start with a blog and Facebook page
While YMMV (your mileage may vary) from project to project, I think you're best served to start with a combination of  a blog and Facebook (FB). The blog is your hub and the only asset you truly own. Any of the free online apps can change their terms of service on a moment's notice, making you vulnerable to losing data or functionality at best and money at worst.  For the 90% of Business Sorority members using FB, for example, I asked what would happen if FB decided it was only going to keep the last 3 months of updates?  There is no satisfactory answer to the question if you don't have a blog.
Why Facebook over Twitter? Notwithstanding my success with Twitter, if you're a beginning social media user, it's easier to use and a critical mass of most everyone's friends and business associates are already using it. The key is to place content in your blog FIRST and then link to it from your FB page. That's not to say you shouldn't upload videos or pictures to FB, just store them on your blog for safekeeping.
The versatile  blog
I use a WordPress theme on my own url (not the free one on the WordPress site). Unlike FB or Twitter, a blog lets me write posts of unlimited length  and insert multiple graphics, videos and sound files in each. Facebook allows you to embed ONE thing and with Twitter you can only insert links.  I drive traffic to my blog using all the other apps but also send traffic out to those apps via widgets.  Take a look at my home page for example, where you can follow my tweets, watch my recent Vimeo videos and connect to my other social media outlets.
If you want to know more, reach out to me or Andy Ciordia, the impresario who makes everything I do online possible.