Updated August 25, 2016:

Earlier this year I announced my intention to tour Italy by motorcycle  this September and right now 6 seats are left  2 rooms left! My passport is current and I've already chosen my bike.
Since talking to interested women motorcyclists about the tour, I've noticed that many of their questions are similar, so I covered them here.
Good news: I hosted a live call-in Q&A session that you can watch right here:

Concerned about Rome traffic?
Some riders might find the thought of touring Italy on a motorcycle intimidating. First, let's talk about Roma's traffic.
You'll spend two days upon arrival in Rome before starting the tour to adjust from jet lag, visit the lovely city, and take short ride in the country to know your motorcycle in a controlled environment.
Our will leave Rome early on Sunday morning, when streets are with very little traffic. Honestly, traffic will be light; you can ask about that in our call May 11.
Concerned about the schedule?
Of the five riding days, the longest is 155 miles. Anyone can do that!
The other four are no more than 100 miles. This leaves lots of time for breaks, sightseeing, and photos of the fabulous scenery along the way. There is always the option of more riding once everyone has arrived at the hotel.
Enrico Grassi* designed an itinerary that blends lovely riding roads, relaxing and rejuvenating hospitality, and a pace that allows us to take in the sights, scents and flavors of Italy's Lazio, Umbria, and Tuscany regions.
Concerned about the pace or the roads?
The ride pace will be leisurely. If you have a great need for speed you can go out on your own once we have arrived at our destinations.
All the roads on this tour are paved and categorized as easy, meaning a minimum of hairpin turns or crazy off-camber twisties. The roads were chosen to meet the needs of first-time overseas tour travelers who could be "dazzled" by the experience.
Guides Enrico and Bill will join us.* We'll review "Rules of the Road" and group riding.
Three nights of the nine-day tour are spent in the same hotel, in Siena, with a rest day and loop day-rides from that hotel.
Two nights in a beautiful resort nestled into a fabulous winery setting in Orvieto, pictured here.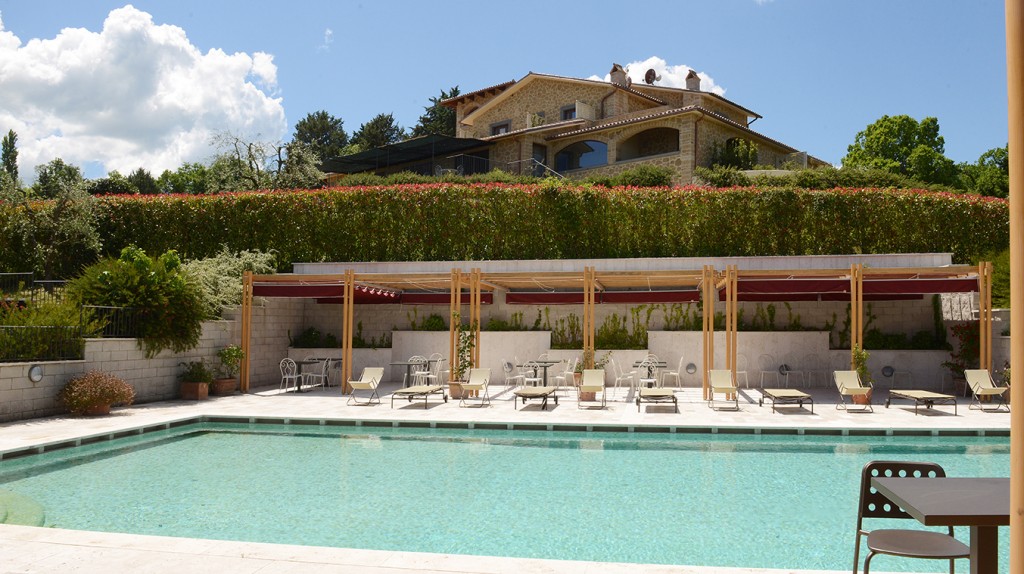 This itinerary allows you to settle into only two hotels and enjoy their amenities, without having to unpack and repack each day for a new hotel.
The resort hotel in Orvieto (pictured) has a fabulous spa with all the amenities one could imagine.
What about the luggage?
A support vehicle will carry the luggage, so you can travel lightly on your motorcycle. You will have the option of leaving extra luggage at the Rome hotel to collect when the tour returns to the same Rome hotel.
This "Magical Italy" itinerary was designed to showcase a lot of variety of Italy in a short amount of time. You'll get a good taste of the culture, the food and the beauty of this legendary country.
Concerned about motorcycle choice?
Book now to get the bike you want. Bikes are first-come, first-served.
Hear the Road Motorcycle Tours offers Harley-Davidson in addition to BMW, Moto Guzzi, Triumph and Ducati.
When you click through to register be sure to indicate "Travel with Tamela."

*About our guides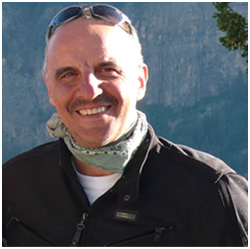 Any tour is only as good as its leaders. Our tour leader, Rome-born-and-bred Enrico Grassi, wants us to experience Italy as Italians do. Enrico owns Hear the Road Motorcycle Tours.
With eight full days in Italy, the itinerary is designed to allow us the time to get to know Rome, Siena and Orvieto in depth and at leisure. Here's his philosophy:
Forget about getting from A to B in the fastest time possible. Forget about racing down the highways.
I deal with feelings. What I am talking about is the essence of travelling: hearing, seeing, smelling, feeling, tasting: experiencing all these senses at the same time, enjoying the wonderful freedom and exposure you get from being on a bike… Because for me, being on the road is all about feeling great! There are few things in life that match the sensory feeling of riding, seeing, and hearing the road as I ride the scenic back roads of Italy with my fellow riders.
My great friend Bill Kneigge, who has been in the motorcycle business 40 years and leading tours for 12 of them, went to Enrico with the idea that women would like to tour with other women. He was right!
The success of the 2015 reviewed in Motorcycle Magazine, led Enrico and Bill to tweak the itinerary this year to give us more time in Siena, a UNESCO World Heritage Site.